FULL DAY BLUES CONCERT!
Saturday, October 19, 2019
11:00 AM
Community Park Amphitheater, 200 Ocean, 36th St, Marathon, FL 33050
✸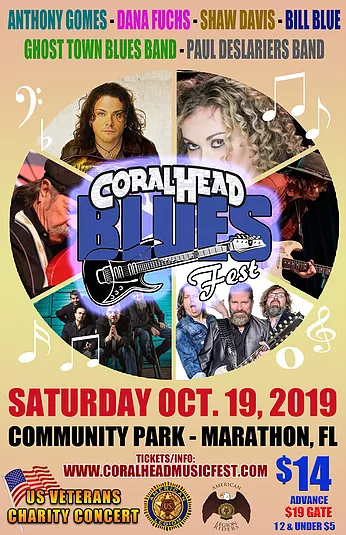 ✸
The Coral Head BluesFest is full day concert production presented by the American Legion of Marathon and is a perfect way to begin your Fantasy Fest experience. This is a high energy Blues concert featuring International, National, and Regional Blues artists. Taking place at the Community Park Amphitheater in Marathon, gates open at 11am and will end with an All Star Jam of all the performers at 9pm. Advance tickets are ONLY $14! – Gate: $19 In/out access throughout the event. Click here and buy your tickets today!