A.H. Monroe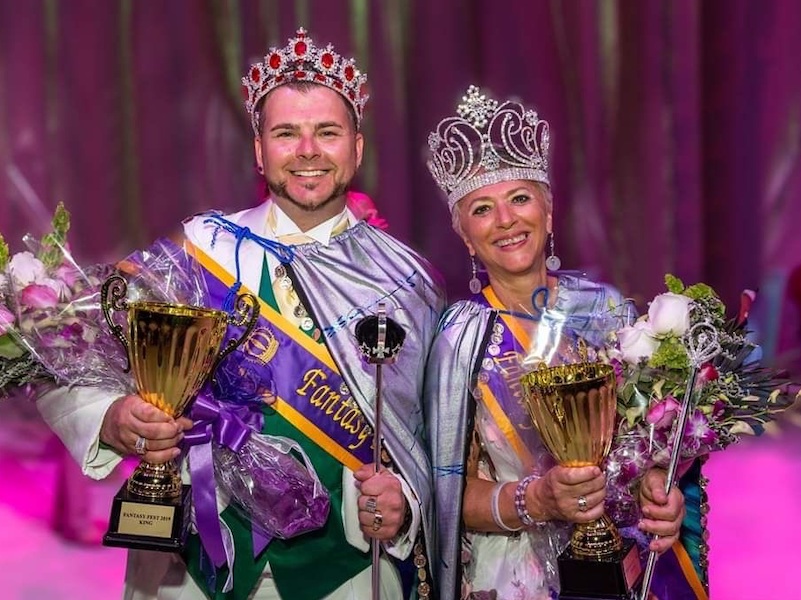 Bestowing a crown upon a Key West resident to become King and Queen of Fantasy Fest is an annual fundraising event benefiting A.H. of Monroe County, Inc. (AH), a local nonprofit agency, and has raised nearly $5 million dollars since its inception.
Friday, August 26, 2022 will be the Kick Off for the FANTASY FEST Royal Campaign of 2022, hosted at the Ocean Key Resort's Sunset Pier…the last Royal Campaign to benefit AH. (For 2023, another nonprofit in the Keys will assume oversight of the Campaign.)
Following Kick Off, a wildly-varied array of events, held over 8 weeks, are individually-staged by Candidates, plus all-Candidate events that unite the campaigns…including a spin on the 'American Idol' singing competition, a randy and raucous Sunday BINGO and mixers and auctions at familiar island venues.
The Royal Court, their campaign team and other key agency supporters all appear prominently in the Saturday evening Duval Street parade on a float designed specifically to highlight their financial achievement.
The Royal Coronation Ball is held on Friday, October 21, 2022 at the Coffee Butler Amphitheater at Truman Waterfront where the Candidates who raise the most money for AH will be crowned.
Purchase Royal Coronation Ball tickets here »
✸

✸
Fran Decker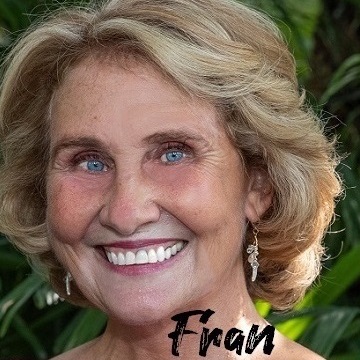 That Fran Decker was born in Atlantic City says it all. She's always been a woman to take chances and she's a very visible entrant in the sweepstakes for Queen of FANTASY FEST, the final campaign to benefit AH.
While she'd vacationed in Key West in the 70's, it was while passing through with her late husband Bob in 1988 that the diversity of the Keys felt like her "heart home. I've always been eccentric in the other places I've lived." By Key West's barometer, "I'd be downright boring!". The couple had spent three years touring the Caribbean by boat, and while she fretted "about my New England's husband's tolerance for humidity," they moved to the Middle Keys for the next seventeen years, living aboard their boat on weekends while Bob offered Key West charters M-F. He encouraged her retirement, so she could pursue an affinity, since 12, for acrylic paints.
"It was always a hobby, but not a living," she pointed out, yet with the encouragement of Judy Bradford, she opened Sodu Gallery in 2005, then a second, Frangipani, before merging the two in 2017. The pandemic didn't contribute to its closure; Fran's artistic frustration with the all-consuming grind did. "Running a gallery is always a trade-off: painting things because I know they'd sell, managing people, doing the books. And," she smiles and points out, "I wouldn't be talking to you about running for Queen if I still had the gallery."
It was in Boston, in 1981, that she first heard of AIDS while working in the dermatology lab of Tufts Medical Center. She vividly recalls how all employees, "down to the janitors", were loaded onto buses to hear, in a jammed auditorium, about something called AIDS. And she came to know too well our own community's losses, having worked in social services in the early 1990's with 10 of the Agency's Marathon clients as they navigated disability.
"I attended every one of their funerals."
So then the availability of a Medical Case Management position at then AIDS Help seemed logical. "I was the perfect fit." The story takes a regrettable twist. "I didn't get the job. Know why? I was told 'As a straight woman, I had nothing to offer clients.'" Silence. "Believe me, I had a chip on my shoulder about AIDS Help for awhile," she admits.
Discovering "the wonders of the Royal Campaign" -- working on Kate Miano and Captain Tim's Campaign was "especially memorable" -- turned that around. She and her husband vowed their own dual Candidacy would happen sooner rather than later. But Bob's diagnosis of, then long battle with, cancer left her diminished and spent. "I am doing this partly for Bob," she says wistfully.
She is, as her branding proclaims "Fran-tastic!"
"And who, besides someone else named Fran, can claim that?" she rightfully asks. With the encouragement of 2018 FANTASY FEST Queen Bernadette Restivo, she's been ready since 2020…and we know how that all played out.
"But I look at it this way: I've had 24 months to prepare!"
✸
DJ Sanaris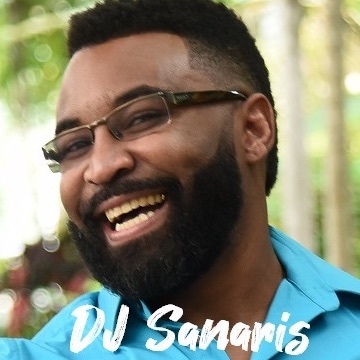 Hailing from Cordale GA — the Watermelon capital of the world — DJ Sanaris (Peacock) is a 19-year Key West resident who lost his mother to AIDS in 1995.
"I am running for 2022 King of Fantasy Fest because the work of AH is so important and the personal connection I have. If this Agency had been in my town, maybe my Mom would have gotten the help she needed. She'd still be here to see the man I have become."
Feeling he needed structure and discipline after high school, Sanaris joined the United States Navy as a Cryptologic Technician. Based out of San Diego, stationed on board the USS Constellation during 9/11 and Operation Iraqi Freedom from 2001-2003.
"Getting to see more of the world was a bonus," he recalls.
With only a little over a year left of duty, orders brought him to Key West to start his final tour with JIATF South in December, 2003. He so loved the island he re-enlisted. In July, 2007 he was Honorably Discharged as CTT2 (SW/AW) Sanaris Peacock. 
"While in the Navy, right before Fantasy Fest 2004, I got a part-time job at Sloppy Joes just for extra cash." There, he met his wife Vikki. He offers his signature grin. "She was a cute server/bartender and nice to me from Day #1. Now, she's their kickass Operations Manager…and still cute!"
Sloppy Joe's also gave him a start toward Djing, with no experience, just before Fantasy Fest 2005. Djing was his 2nd love, after Vikki. He hosted the Fantasy Fest Toga Parties and the New Year's Eve 'Dropping of the Conch Shell' since 2005. After working with TSA as a Transportation Security Officer and earning a bachelor's degree in CIS from St. Leo University, Sanaris went full-time as a DJ. Working with longtime Key West Wedding Entertainment Company, SoundWave KW and being mentored by Soundwave's Co-owner and 2003 Fantasy Fest Duke, Sanaris started his own Mobile DJ Company, Pulse Groovz LLC, in July, 2020.
In doing so, he discovered that the old saying was true: do something you love and you'll never work again a day in your life. Something else he loves is bringing people together from all walks of life in different venue settings.
"I play weddings, birthdays, pool parties, house parties, school events, fundraisers, work out events and more." Again, that grin. "Never a dull moment!"
As a Bubba Award People's Choice winner for Best DJ 2021 & 2022, his demand has escalated. When he's not DJ'ing, you can find him behind the microphone hosting the World Famous Vibrator Races at Mary Ellen's, raising funds for local charities and residents in need.
When Dog Dad to Havanese Minni and Lou asked what he does in his down time, Sanaris offers "I chill, binge T.V. with my wife, play video games, wrestle with Minni and Lou or hang at my favorite watering holes and restaurants with friends. I love our laid-back bar and food community here." He pauses. "I am determined to make Key West, and my Mom, proud."
✸
Vicky Shields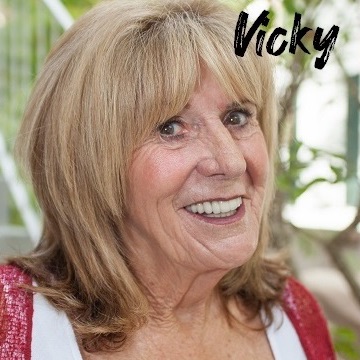 Vicky Shields, 2015 Fantasy Fest Duchess, candidly says, "Running again in the Royal Campaign was not on my bucket list."  But a friend's death from AIDS, uninsured and stigmatized, at age 36 left her alternately miserable and furious. "There's still, obviously, work to be done," she says, and so her Queen Candidacy in the final Campaign to benefit AH began.
In an interview partially conducted as her hair is highlighted in a local salon ("honey, I'd look like a homeless woman if I didn't work at it"), she reflects on a life well-lived.  Not that the journey was without complication. 17, pregnant and earning the ire of her parents, I had "no choice" but surrender the newborn boy for adoption, but not before getting a peek at the adoptive parents' names on paperwork left unattended on the lawyer's desk. Research later located him and when she called, she simply told him, "I am your birth mother." Bill is a "fantastic" gay, single man who lives in Arkansas and works in animal rescue. "We have a great relationship." (Her daughter Ashley lives in Gainesville.)
"Let's just say I was born in Albuquerque, New Mexico a long, long time ago." College took her to Indiana and back to a nursing career in Albuquerque. Marriage took her from Phoenix to Denver to San Francisco. "I have lived in some beautiful places. We can totally skip over the time I spent in Oklahoma City, a truly horrible place where I was once asked to leave a bar for 'consorting' with a black man. I was just sitting with him!" After settling in Atlanta with her husband, she resumed her volunteerism at The Jimmy Carter Presidential Library and Museum and overseeing the Roswell Youth Day Parade with "with Jimmy Carter's beloved aunt, Cissy Dolvin."
Along the way came a vacation home in Surgarloaf Key, where she still lives. "It was built in 1957 by a Navy man. We were the 2nd owners. It's single story, which means no steps to go up and down, thank God. Never any hurricane damage."
Vicky's a frank and unapologetic ultraliberal, enraged by "why people are so fixated on who other people love and how they live their lives. The overturning of Roe Vs. Wade is simply an attack against women." As a nurse, she managed an abortion clinic in New Mexico for three years. "I wish no one felt the need to have one, but I wanted to make sure they were comfortable during what was the probably the worst day of their life."
Her activism led her to an unsuccessful run for New Mexico State Senator. "I wanted to protect abortion rights, legalize marijuana…hell, legalize all drugs…and ensure the indigenous population could open casinos." Her biggest surprise? "I had no idea the Mafia had such power in New Mexico. They were my biggest supporters!"
Having served on the Board for Bayshore Care and co-chaired the Key West High School After School Food Program, she worked as a docent for the Key West Woman's Clubs Club of Key West and is still active in annual fundraising to restore and maintain the property. Vicky relaxes "by putting up my sore feet and watching Dr. Pimple Popper."
Not that the weeks leading to Fantasy Fest will permit much of that as she creates fundraising opportunities…although she did recycle her Kickoff regalia. "And you know what? It still fit!"
✸
Carlos Home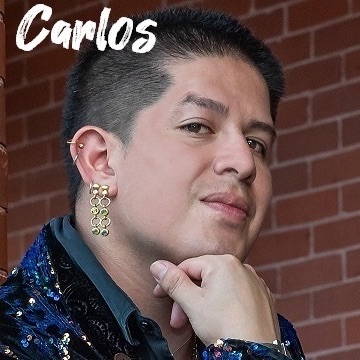 When asked, Carlos Home jokingly says that his favorite color is "glitter". Carlos is known for his designer clothing adorned with rhinestones and lots of glitter. If you know him, you also know that glitter looks good on Carlos.
A boatload of it may adorn him if he succeeds in his quest to become the final AH King of FANTASY FEST 2022.
Carlos was born in Mexico City. His parents and two sisters still reside there. While he had a discreet group of LGBTQ+ friends in school, Carlos "wasn't out, but they knew. Even my 'girlfriend' turned out to be a lesbian!". When his father, a church minister, later discovered he was gay, it strained their relationship. "It was better for me not to be there," he quietly explains. The 1-year family fracture ultimately healed when his mother reached out to mend the relationship.
"She's been down to Key West Pride many times and is supportive. My father…I know he loves me, but he still has problems with it."
The family strain was hard for Carlos and he needed to be part of an accepting community like Key West. His uncle had resided here eleven years ago. Carlos took a leap of faith and moved to Key West. When he first arrived, he had "nothing…maybe one hundred bucks in my pocket.". The move was sprinkled with complications, trials and tribulations, and was definitely not always glitter. The eternal optimist, Carlos was willing to do whatever necessary to succeed.
Carlos enjoys the hospitality industry, but originally his passion was for design. Those of us that know Carlos can see the graphic arts influence in his meticulously designed wardrobe. "Maybe one of these days I'll actually use my degree in graphics arts," he laughs.
His personality and a constant smile he offers to all the 22&Co. customers he serves is why he's the People's Choice Best Bartender in this year's Bubba Awards from Key West Weekly.
Inspired by long-time friend and Fantasy Fest 2017 King Paul Murphy, Carlos decided to run for Fantasy Fest King as a "platform to help others
"I want to pay back what was given to me, I remember how expensive HIV medications were for my friends in Mexico City. They were struggling to afford what their insurances didn't cover. I witnessed the hardships they endured. Nobody should have to go through those struggles to get essential medications".
He understands the struggles of those members of our community. Carlos has been involved with numerous charities and even ran for Queen Mother three times! His campaign slogan is "Carlos is for Everyone".
"That's what this great community is about," says Carlos.
Carlos and his wonderful husband Dan Skahen, coupled six years and married for five, have spent weeks the summer in Provincetown refining his Royal Campaign fundraising events and branding. "It's another safe and happy place for me," Carlos says.
Dan and he also share their beloved Lynx cat, Fergus. Carlos says jokingly that he is all about sharing unless it comes to dessert.
"One of these days, maybe I'll also learn how to share a dessert with Dan," Carlos giggles.
✸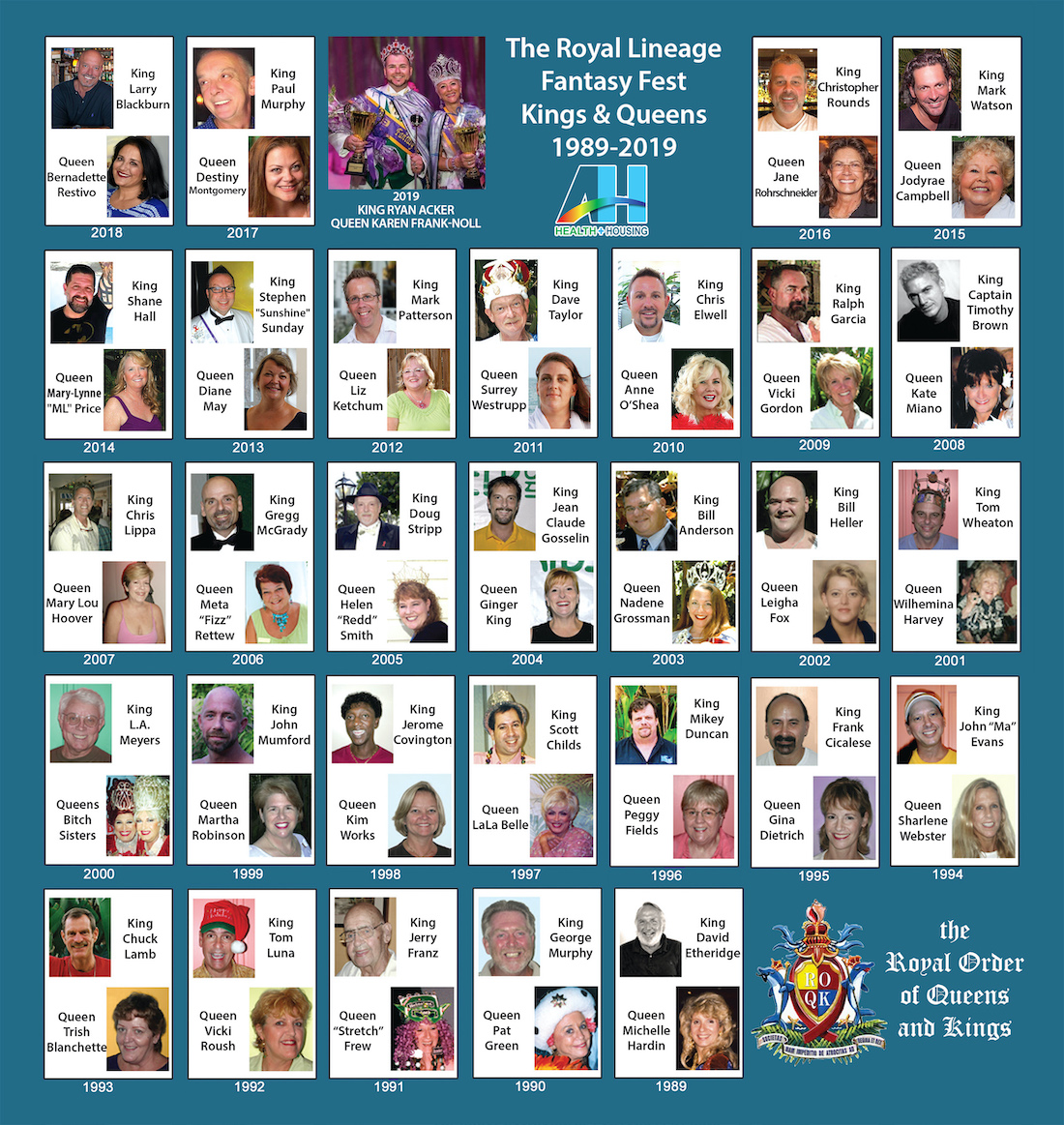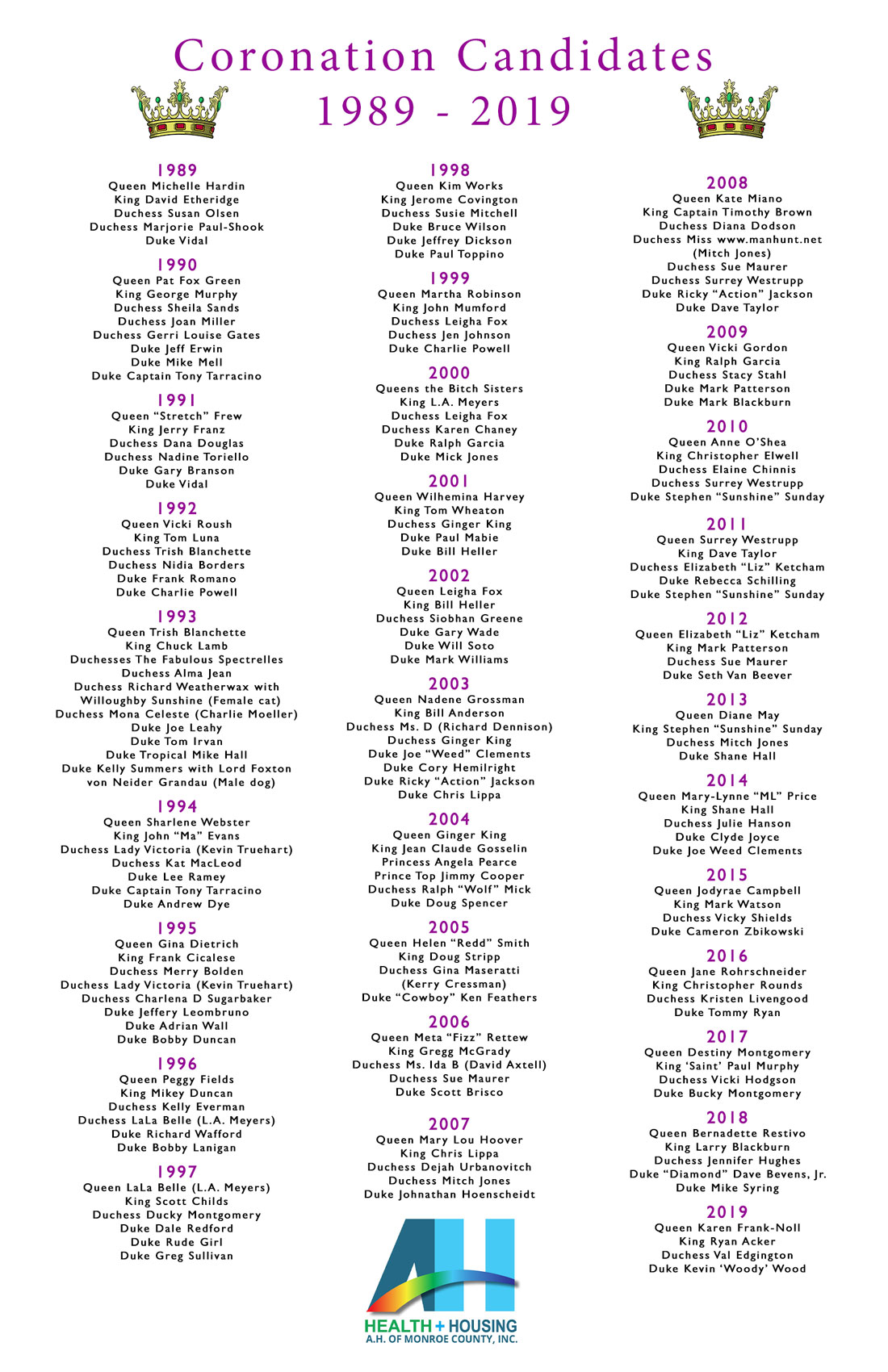 ✸
OUR MISSION – Counseling • Testing • Linkage To Care
The object, general purpose and nature of this Corporation shall be to establish and maintain in Monroe County, Florida, a Corporation that will provide case managed healthcare, food programs, counseling, housing, clinical, and other supportive and volunteer services; increase affordable housing by acquiring, developing, and maintaining low income housing for persons in need; and conducting health education and linkage to care.