Bud Light Fantasy Fest Parade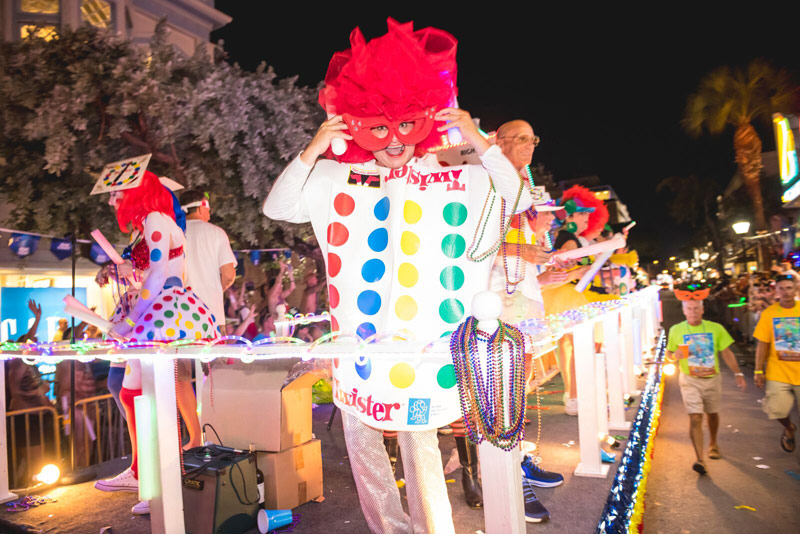 Saturday, October 26, 2019 — 7pm
Each year, the Bud Light Fantasy Fest Parade winds through the world-famous Duval Street from the Gulf of Mexico to the Atlantic Ocean. Lavishly decorated floats and costumed revelers entertain tens of thousands of spectators in the premier Fantasy Fest event. With this year's "In Tune But Off Key: Celebrating 40 Years of Fantasy" theme, expect the 2019 Bud Light Fantasy Fest Parade to have you singing from the mountain tops in your ruby red slippers! You will be taken on a visual symphony by parade floats, walking groups, and ever biking groups. Envision your favorite rock legends marching alongside one hit wonders, the woodwinds frolicking with the strings or The Phantom from Phantom of the Opera having a sing-off with Orphan Annie!
The Bud Light Fantasy Fest Parade route begins in Woodstock in all its Rock N Roll glory (the end of Southard Street) travels through Disco, Punk, New Wave, Bubblegum Pop, and Gangster Rap before making its way to the musical mix we are listening to today. Be prepared to Twist and shout, do the Loco-Motion, do the Dougie, perform the Macarena and most definitely moonwalk the night away! The parade kicks off at 7 PM on Saturday, October 26th...Drop the Beat!
Get to know your Grand Marshal local Key West musical legend Coffee Butler..
2019 Bud Light Fantasy Fest Parade Application
Parade Entrant Manual
Parade Ambassador Manual
Key West Fire Department Float Requirements

Sign Up to Be a Parade Ambassador

Waiver/Release Form For ALL Entrants, Volunteers,
Ambassadors, and Guests walking/riding in the Parade
✸
2018 Bud Light Fantasy Fest Parade Award Winners
Bud Light Fantasy Fest Parade's Best Overall Winner $2000: WeBeFit
Best in Creativity $1000: Lower Keys Fluffers
Best In Costume $1000: Key West Kandy Land
Best in Entertainment $1000: Lower Keys Fluffers
Best Walking Group $500: Daniel Bitner
Vacasa Best Conch Style Architecture Award $500: Key West Kandy Land Gingerbread House
Green Parrot's Best Live Music award $500: Camden Fife and Drum
WeCycle's Best Bike Award $500: Virginia Wark and her KeysOpoly Bike
Best Float For a Cause $500: The Lodging Association Scholarship Fund