Bud Light Fantasy Fest Parade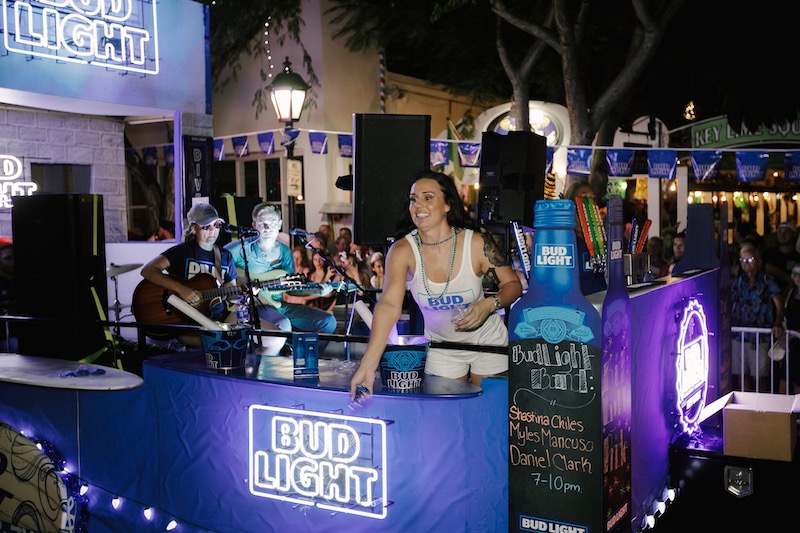 Saturday, October 24, 2020 — 7pm
Each year, the Bud Light Fantasy Fest Parade winds through the world-famous Duval Street from the Gulf of Mexico to the Atlantic Ocean. Lavishly decorated floats and costumed revelers entertain tens of thousands of spectators in the premier Fantasy Fest event. With this year's "Roaring 2020's & Future Fictions" theme, expect the 2020 Bud Light Fantasy Fest Parade to have you partying like Hemingway and Fitzgerald! Parade floats, walking groups and biking groups will be beamed down a secret hallway to a speakeasy of the future. Envision Amelia Earhart swaying through the clouds with Al Capone as her co-pilot, your favorite flapper and cyborg sipping on hooch dancing the shimmy with Duke Ellington, or listening to Albert Einstein and extraterrestrials talk about how the theory of relativity applies in the parallel universe.
The Bud Light Fantasy Fest Parade route begins like any other great story at the beginning (the end of Southard Street). This page turner will take you on a winding road with vivid imagery, euphoric excerpts, mesmerizing metaphors, and captivating characters before making its way to the fictions of the future. Be prepared to hop on the train for A Passage to India with Forster, wander into The Waste Land with Eliot, or come alive with The Velveteen Rabbit and Williams-Bianco. You can end the night on This Side of Paradise with Fitzgerald or in A Room of One's Own with Woolf. The parade kicks off at 7 PM on Saturday, October 24th...Where The Sun Also Rises the next day!
For questions or comments, please contact [email protected].
2020 Bud Light Fantasy Fest Parade Applications coming soon!
✸
2019 Bud Light Fantasy Fest Parade Award Winners
Grand Prize Overall Winner $2000: Lower Keys Fluffers
Interpretation of Theme $1000: We Be Fit & Theme Runs
Best in Entertainment $1000: Passion Project Dance Troop
Best in Costume $1000: Daniel Bitnar
Directors Choice $500: Hemingway Look A Like Society
Best Conch Style Architecture $500: We're Not All There Society
Best Walking Group $500: Top Hat Marching Orchestra
WeCycle's Best Bicycle $500: Virginia Wark
Green Parrot's Best Live Music $500: News-Barometer & Fanci Seafood