Become a Fantasy Fest Sponsor today!
It's not just FUN — it's GOOD BUSINESS!!
News
OUR 2019 THEME IS:
"In Tune but Off Key:
Celebrating 40 Years of Fantasy!"
We're orchestrating a monumental celebration in honor of the 40th anniversary of Fantasy Fest, and you don't want to miss this performance. Whether you're an alto, a baritone, a soprano, or even tone deaf, you can march to the beat of your own drum in your most creative costumes. Become your rock star idol, create a dance routine with your favorite jazzercise group, or transport yourself back to the best songs of your childhood. The ideas are endless, so find the right pitch, sing along with the melody, and do the twist down to Key West this October!
Fantasy Fest Background
Fantasy Fest is an annual 10-day party in paradise for grown-ups. Started in 1979 by a small group of Key West locals, the party was created to bring visitors to the island in what was a typically quiet, but beautiful season. It worked. Fantasy Fest has grown every year since its inception and is now the wildest extravaganza around! Fun-loving revelers from around the globe bring their creativity and imaginations as they descend upon Key West each year in October for 10 days filled with costuming, parades, libations, and excitement!
Featured Merch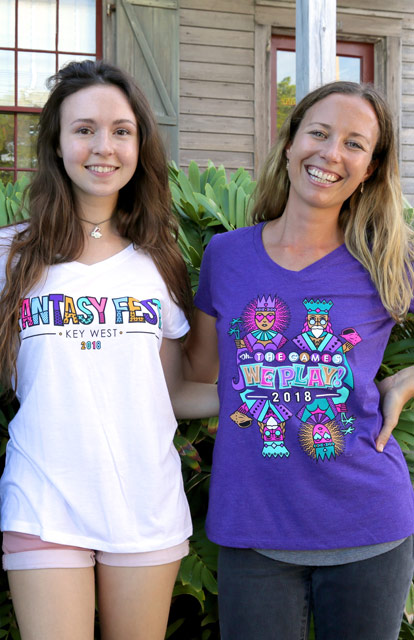 Get your official Fantasy Fest T-shirts and Swag now! »
We still have 2018 Fantasy Fest merch available, so get it while it last!! We will have our 2019 merch available in mid-June!!
Want to create this year's Fantasy Fest Official T-shirt and Poster? Submit your entry to the Florida Keys Council of the Arts Fantasy Fest Poster Contest!
FANTASY FEST
GUIDE
Our official
2019 guide
will be
available soon!
CAN'T MAKE IT
THIS YEAR?
We'll miss you!
View live streams
of several events
and watch the fun
on our webcams!
FUTURE FANTASY FEST DATES!
2020: 10/16 - 10/25
2021: 10/22 - 10/31
2022: 10/21 - 10/30
2023: 10/20 - 10/29
2024: 10/18 - 10/27
CURRENT TEMPERATURE
IN KEY WEST
80°F