GET BODY PAINTED!
Friday, October 16, 2020
10:00 AM
627 Duval St., Key West, FL 33040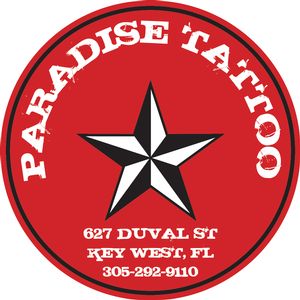 Join our guest and celebrity body painter artists, including Sean Avram from Skin Wars and the 2020 Fantasy Fest featured artist Pashur, as they join the Paradise team to unleash their creativity on YOUR 'Canvas'! Their amazing talent will make you stand out on Duval or at any official Fantast Fest party. From full body art to small stencils, we will paint as much as or little of yourself as you like in all price ranges. In addition to traditional applications we have glo paint, finger painting, water & sweat proof options and glitter boobs/bum! All paint jobs are professionally photographed and the best join our Wall of Fame! Paradise Tattoo has a great selection of costumes, costume accessories, tutu's, theatrical eyewear, false eyelashes and so much more to accessorize whatever you're (not) wearing! OR – Make a decision you can't forget and Get INKED by Key West's #1 Tattoo Shop! Paradise Tattoo is a one-stop-shop for your Fantasy Fest needs plus $3 Bud & Bud Light roadies all day, every day! Body Painting and Tattooing are available by Appointment or on a walk-in basis during Fantasy Fest. Call 305-292-9110 to make your appointment now.
✸